5 Acupuncture Points to Treat Insomnia
In the clinic, I often encounter patients who list insomnia as a major complaint. These are the 5 major acupuncture points I use to treat insomnia. I call them the 5 Peaceful Sleep Points. Oftentimes, by using these points and incorporating Chinese Tui nai, cupping, and gua sha, my patients suffering from insomnia will fall asleep within 20 minutes of the treatment.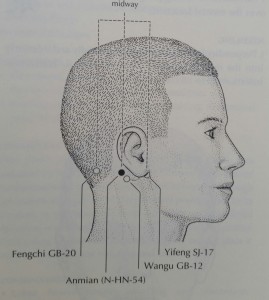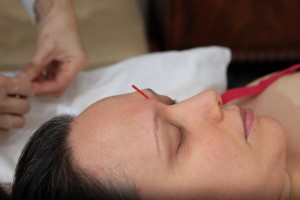 5 acupuncture points to treat insomnia are: H-7 Shen men ,PC-4 Ximen, SP-6 Shanyinjiao and extra point Anmian and YinTang
H7 is the Yuan source point of the Heart Channel, and belongs to the Earth point. It calms the spirit as well as regulates and tonifies the Heart.
Pc4 Ximen is the xi-cleft points for the Pericardium channel. It calms the spirit by clearing heat from the blood which may rise to disturb the heart.
SP-6 Shanyinjiao, the Chinese name for Three Yin Intersection, is the intersection point of the Spleen, Liver and Kidney channels. SP-6 tonifies the Spleen and
Kidneys, as well as harmonizes the Liver. It regulate Qi and blood and in turn it calms the heart and spirit.
Anmian is an extraordinary point; its Chinese name means Peaceful Sleep. Anmian has the actions of clearing sensory organs, calming the spirit , and pacifying the Liver.
YinTang, another extraordinary point, is also often called "third eyes chakra" in other cultures. It is a great point to balance the mental and physical .
All of these 5 acupuncture points are powerful and effective points to regulate channels and organs, balancing yin and yang, tonifying Qi and blood to calm the spirit in the treatment of insomnia, anxiety, and depression.